13.1 Mile
04/06/2024 @ 8:30 am

-

12:30 pm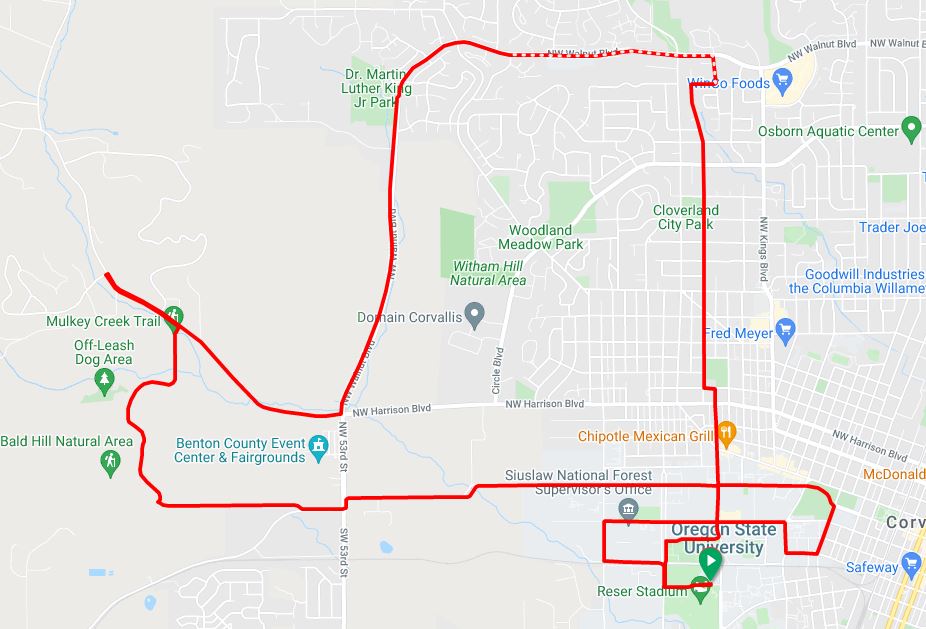 Note: Adjustments to the date, time or route may occur if the OSU spring football scrimmage is scheduled on the 6th.
Interactive Map

Half Marathon Course Description:
This scenic 13.1 mile long Tour de Corvallis is mostly flat with two slow gradual climbs, and consequently two gradual descents. The entire course is on paved roads, sidewalk and multi-use paths. Turn-by-turn instructions are below.
The run starts and finishes on Ralph Miller Ln between Reser Stadium and Gill Coliseum. The first 2 miles  are on the Oregon State University campus. After mile 2, you'll head to north Corvallis and Walnut Blvd. At mile 4 there is a small hill followed by an approximately 1.3 mile gradual climb to the top of Witham hill. This climb gets steeper as you get towards the top at mile 5.8. You'll then hit the fastest part of the course on the 1.4 mile gradual downhill from MLK park to 53rd St. Next you'll head out to the scenic Bald Hill nature park and around to the iconic Covered Bridge before making your way back to campus and the finish. Overall, this course has approximately 380ft of gain and loss with the largest hill of the day occurring before the halfway mark. There are 4 aid stations on course approximately every 3 miles. Aid stations will be stocked with water and electrolyte beverage. There are no calories on course so bring your own.
REGISTRATION DETAILS:
Registration Pricing Schedule:
October-December 31st: $55
November 1st – December 31st: $65
January 1st – February 28th: $80
March 1 – April 14th: $90
Race Shirts:
Race Shirts are only guaranteed to those who register on or before March 13th. After that time if shirts/sizes are available to select on the online registration, they are available. 
Division Awards:
Include finisher medals in all races. Awards will tentatively be given to the top 3 male & female finishers in the following categories: Under 14, 15-19, 20-24, 25-29, 30-34, 35-39, 40-44, 45-49, 50-54, 55-59, 60-64, 65-69, 70-74, 75-79, 80+
Masters: Masters category will start at 40 years old on race day
Clydesdale & Bonnydale Divisions: We will offer a division for Men (210+ pounds), and Women (170+ pounds).
Attention Walkers!This information is for a non-COVID year: We will have an early start time of 8:00am available for walkers. This start time is for those who plan on walking the entire course. No early start for anyone who plans to jog or run portions of the course. This is only for those who will be taking longer than 3:30 or averaging more than a 16min/mi pace.
Elite Runner Registration 
Contact [email protected]
Men – sub 1:15 in the last 12 months

Women – sub 1:20 in the last 12 months
Post Race
Food and beverage garden presented by: